ClickUp vs. Asana vs. Trello: Our Experience With Project Management Tools
Disclaimer: There's going to be a lot of info! To not get lost, follow our table of contents:
Intro
The effectiveness of the entire company often depends on well-built communication and a clear understanding of all the tasks. To build such conditions, it is crucial to find the perfect project management tool for your team. It is also very important to clear the deck and provide well-structured monitoring for all of your projects. There are a lot of platforms with a wide variety of functions in the market of team productivity tools. Don't panic, BDA's experts are here to share our professional practice and make your life easier, telling you about our favorite candidates. In this post, you will find a detailed overview and comparison of all the charms of the three most popular platforms at the moment: ClickUp, Asana, and Trello. Don't forget to share this with your colleagues!
ClickUp vs. Asana vs. Trello: Overview
ClickUp
With the slogan "One app to replace them all", the developers of ClickUp proudly declare that this tool is second to none. Here, all the necessary competencies are combined under one roof. Project management functions to structure tasks and chats for effective communication with the team. In addition to this fascination, the large abundance of work formats to be able to review the company's work from all angles and goal orientation tools to track the team's progress.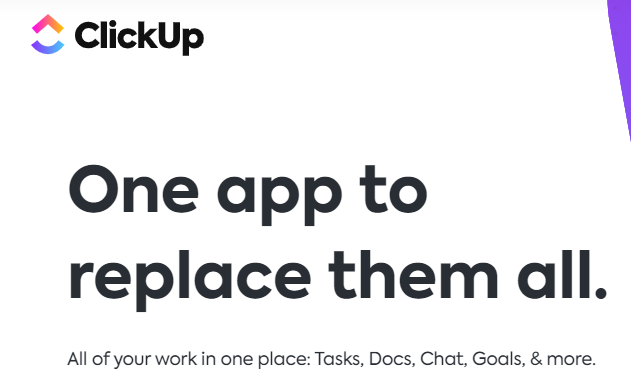 Asana
Among the three competitors, ClickUp, Asana, and Trello, Asana was the very first of its kind to be released to the market. In 2008, it was the one and only, but trends began to develop faster, and many more modern analogs appeared over time. Was this project management platform able to maintain its leading position? "Big work happens in small pieces" – such a statement is displayed on the main Asana website. This points us to the main strength of this platform – excellent workflow control functions and project structuring. That's right, here you will find process and project management features and exceptional workflow customization.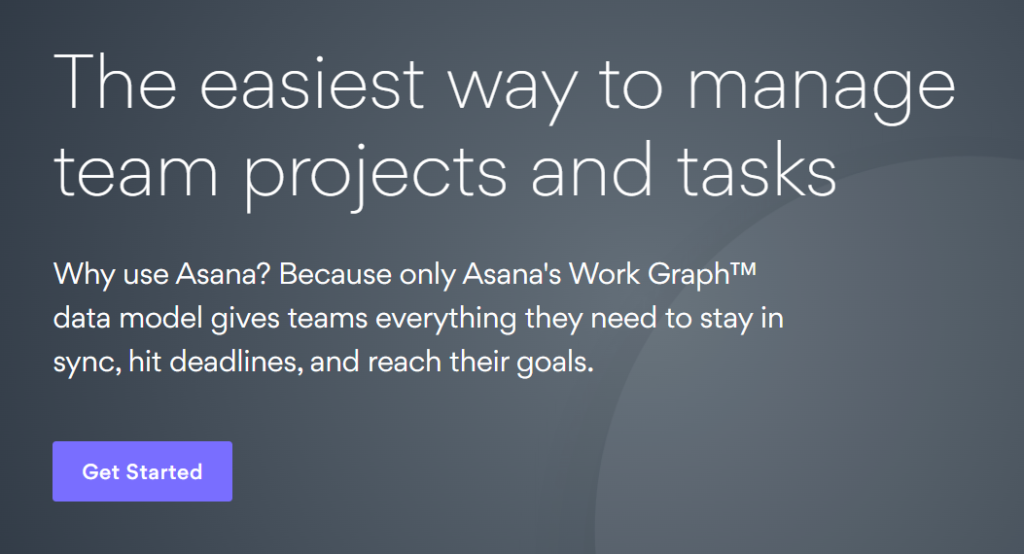 Trello
Our third candidate for consideration is a simple, but no less effective task manager – Trello. Its simplicity is its advantage. While others are dealing with the functionality of complex project management tools, Trello users are already making out their projects on a variety of boards. This tool will be an excellent coordinator of the work of any team. The most popular format that users associate with Trello is roadmaps. Well, it's wonderful at that.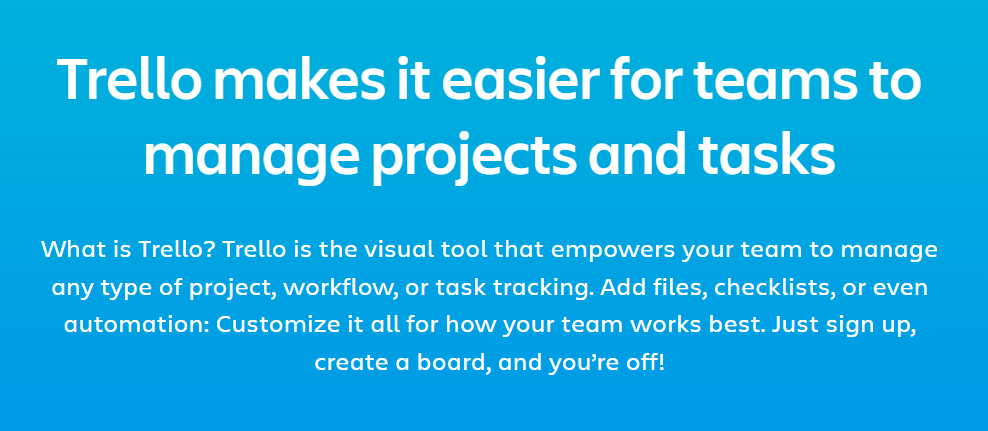 ClickUp vs. Asana vs. Trello: Prices
What unites all three pieces of software regarding prices is the availability of a completely free plan and the opportunity to try a more advanced version for free in the trial period. Let's look at the other price features of each instrument.
ClickUp
ClickUp offers consumers five different plans.
Let's start with the most basic – the Free Forever option. As the name implies, this plan is free, but despite this, it offers a good set of full-fledged functions but has limitations in memory and in the number of guests to invite.
The next option is Unlimited for $5 per month. All limits are disabled here. Access to infinite storage, the ability to invite guests, create teams, agile reporting function, and much more.
Next up is the Business version for $9 per month. This is an ideal solution for medium-sized companies, as it offers advanced versions of public sharing, dashboards, and workload management tools.
The Business Plus plan for $19 per month is an extended version of the previous option. It has subtasks in multiple lists, increased automation & API, and priority support.
Last but not least, the Enterprise plan for multiple large teams. Its cost is negotiated individually with the customer. This option can include all imaginable and unimaginable tools of team and project management, for instance, guided onboarding, dedicated success manager, access to managed services, etc.
ClickUp really tried to please everyone. Among the proposed plans, any team will find something suitable for their individual parameters. You can find a deep comparison of price versions on the official website.

Asana
The most affordable Asana price option is called Basic. It is free and offers unlimited access to basic functions and integrations, but has limitations in collaboration.
The package of the average price category is called Premium. The cost is calculated per user and is $10.99 for annual payments and $13.49 for monthly payments. This includes reporting across unlimited projects, advanced search, unlimited free guests, an admin console, and many other useful features.
The most expensive plan is Business. It is suitable for larger companies and costs $24.99 for each team member with an annual payment and $30.49 for each user with a monthly payment. It contains all the Premium features plus some extra functionality such as portfolios, workload, custom rules builder, etc.
Learn more about all plans on the Asana Pricing page.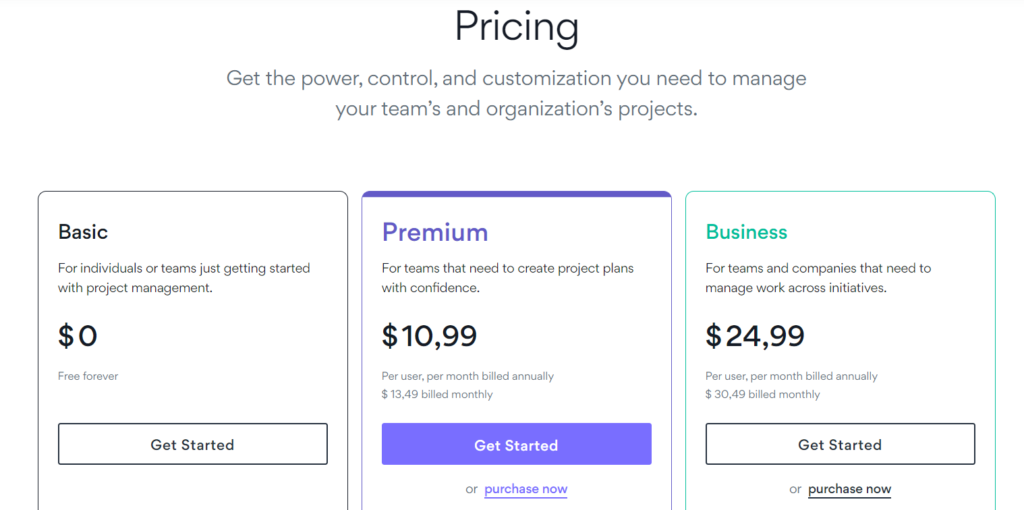 Trello
The simplest Trello plan is Free for individual use or collaboration in a small team. It includes basic functions and limited workspace command runs per month.
The second plan is Standard. For $5 per person (if billed monthly – $6) you will get various additional features, such as advanced checklists, custom fields, and saved searches.
The most popular is the Premium price option for $10 per employee (if billed monthly – $12.5) will give you an abundance of interesting additions. It is worth mentioning the extended variety of views, for instance, dashboard view, timeline view, workspace table view.
The most extensive price segment is Enterprise with advanced tools. Its price varies from the size of the team, starting at $17.50 when paid annually. This option is suitable for those who need unlimited workspaces, organization-wide permissions, and other powerful functions.
You can find a full pricing options description on the special Trello page.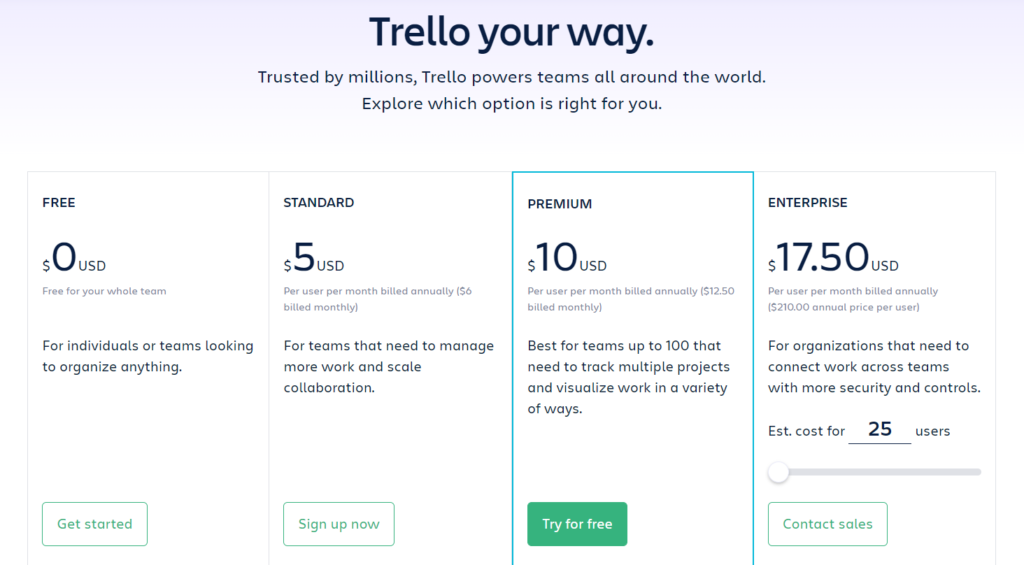 ClickUp vs. Asana vs. Trello: Technical Side
Undoubtedly, the most important criterion for choosing a team productivity tool is its technical equipment. We have tested all three services: ClickUp, Asana, and Trello. In the following block, you will find a deep analysis of their technical characteristics, based on BDA experts' expertise.
ClickUp
Regarding workflow optimization, the functionality of the ClickUp can be divided into several categories.
Project & Tasks
In the ClickUp workspace, there is an intuitive interface for creating tasks and projects with the ability to sort them by categories, which are called spaces. You can move tasks in folders depending on their readiness to have a full picture of the progress as a whole. Structure the flow of ideas. Write them into documents, fill dashboards with diagrams, or draw directly on the whiteboard to visualize all the details of the project.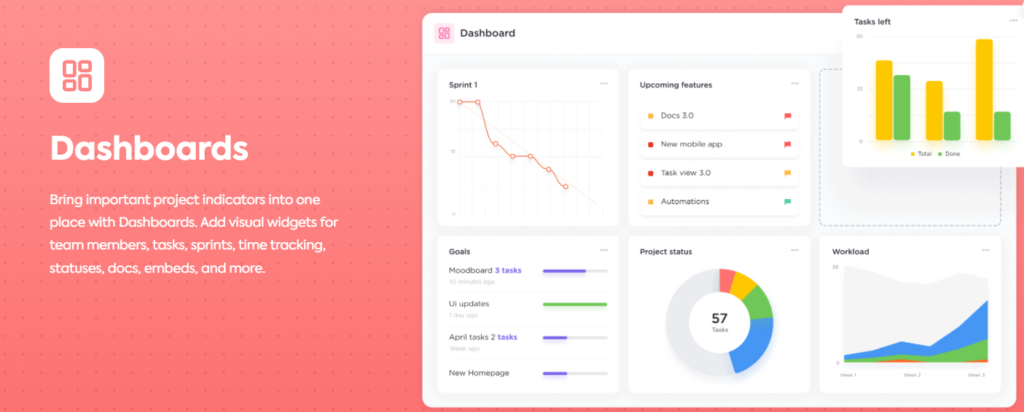 Chat
You can communicate with a person or group in each space. Here it is possible to attach files, assign comments for action items, and link tasks.
Goals
You will find many opportunities to monitor and manage your strategy. Link tasks for different people to one common goal and activate a timeline for their completion to keep up the pace.
Views
It's a matter of taste here, you choose any of the 15+ available formats for your workspace. Organize the structure in any pleasant way: mind map, workload, Gantt Chart, and then you can change your mind and use three new ones. Endless space for searching and creative design.

Automation
This feature can facilitate the work of any department. Find a pattern in your tasks, set an algorithm, and the intelligence of ClickUp will do all the technical work for you. This will help you focus on what is really important.
Asana
Project management
Organize and assign tasks in any convenient format: list view, timeline or boards and group them depending on the execution status. Assign project participants and arrange tasks within certain time intervals. Divide the pile of work into thematic groups or combine it into one large scheme.
Process management
Automate your routine and avoid boring tasks of the same type. Asana learns quickly and will become your full-fledged assistant. Set up Rules so that no one has any misunderstanding, and everyone focuses on the task. Create custom templates or choose from 50+ ready-made ones in the Asana library. So in the future, you will not waste time on organizational issues and will proceed to the essence of the project. Approvals can also be organized efficiently in Asana.
Workflow management
Customize the workflow in different areas by setting the necessary checkpoints and marking the important stages on the way to launch the order on time. If you do it properly, the process will become continuous and none of your team will have a question about what's next.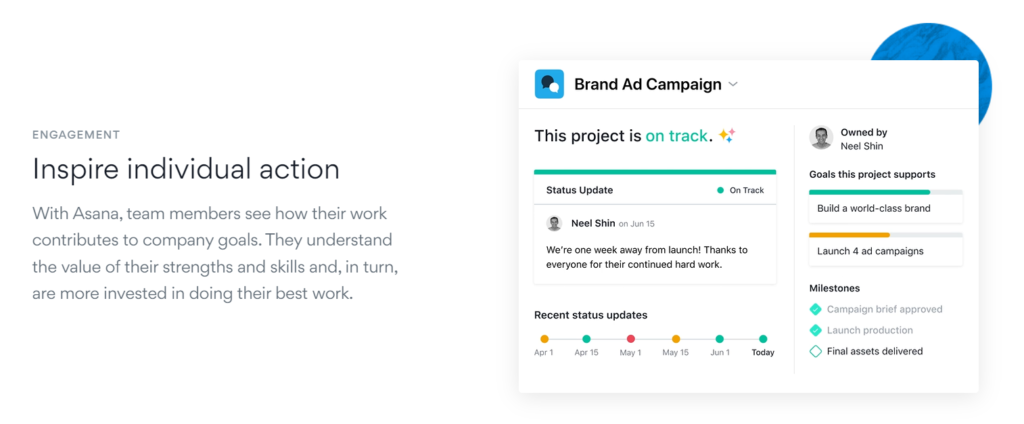 Reporting
For a company that is continuously developing, it is essential to keep records and monitor employee productivity indicators. The reporting block will help you collect all the necessary statistical information on individual tasks or on the whole team's work in real-time. This will help identify potential problems and trace weaknesses in specific areas.
Trello
As we wrote above, Trello is distinguished by its simplicity and ease. Among the features of the tool, the developers note only four key ones: views, cards, templates, and Butler.
Views
The main workspace in Trello is the board. However, you can set up a personalized viewing mode. Use the chronology to track the stages of work, or effectively allocate working hours in calendars. Tables will help you look at the entire project, while the panel will give you access to important statistics. The choice is yours.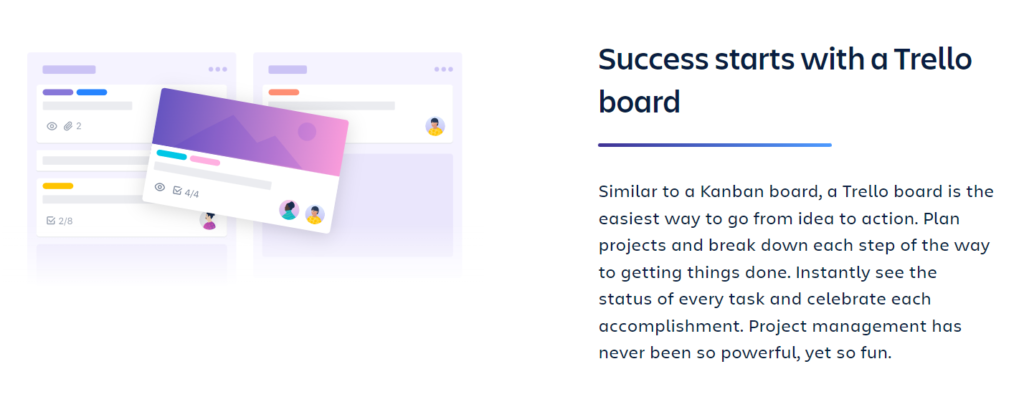 Cards
This is a representation of your tasks. Click, flip, fill, move, delete – do anything if it makes the task more productive and enjoyable. Set deadlines, manage comments and reactions, assign and redistribute work – the cards have everything you need.
Butler
This is a process automation system that does not require coding knowledge. You can delegate simple but annoying routine tasks to this crumb. He is able to create tasks of the necessary content at the appointed time, remind you about important details or upcoming deadlines, move columns, and many other tasks.

Templates
Trello has a huge library of templates for every taste. It saves a lot of time – templates are easy to copy and customize. Sometimes you are surprised by the originality of them, and you can't wait to try a new template.
ClickUp vs. Asana vs. Trello: Integrations
ClickUp
ClickUp is the friendliest kid in the sandbox. It will happily integrate with any of the 100+ available platforms that you are used to using. It also won't help you with moving and importing all the significant materials from outdated team management platforms. ClickUp also has a lot of ClickApps toys that you can play with and turn off at any time.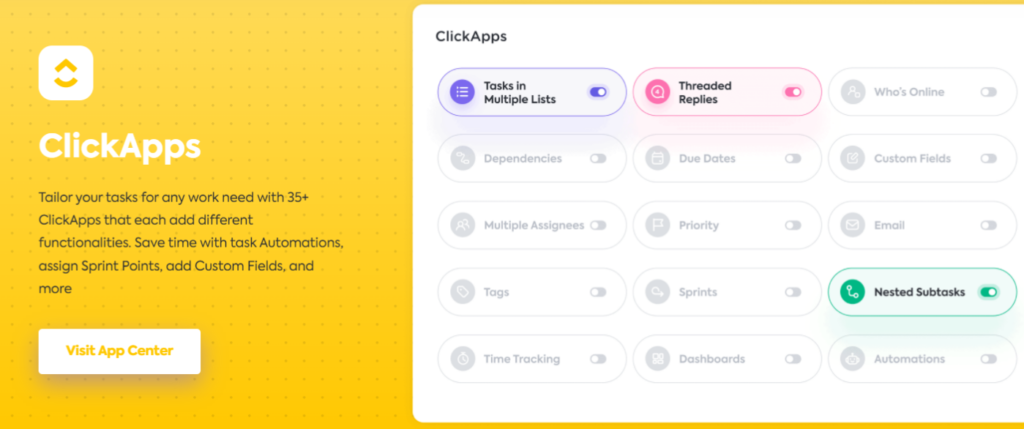 Asana
Combine all your favorite apps and services in one place. You no longer need to switch between browser tabs and windows, Asana transports all the required data from more than 200 third-party sites to your workspace.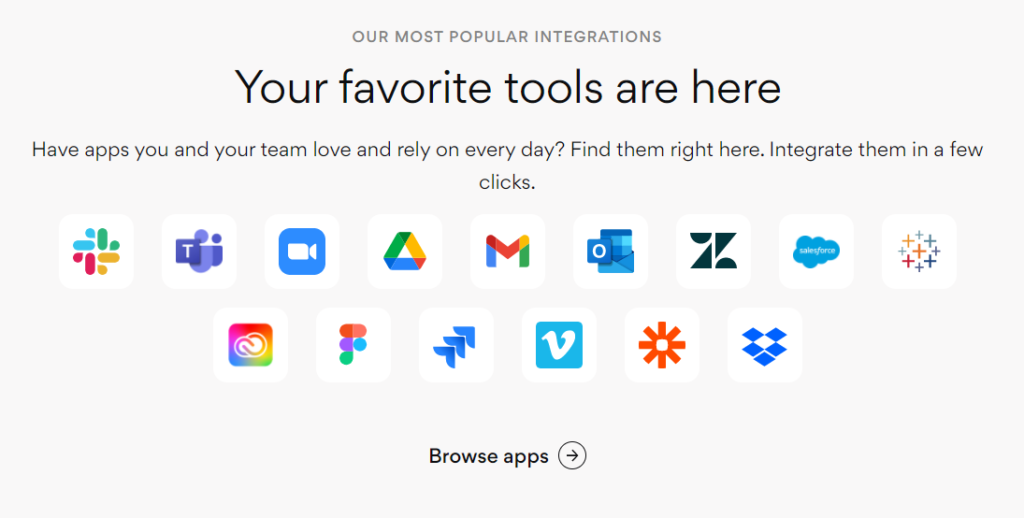 Trello
Power up your workflow by adding a lot of interesting, useful chips to your productivity. These can be integrations with popular third-party platforms, as well as services created specifically for Trello. You can choose an application to your liking in the extensive library of Power-Ups.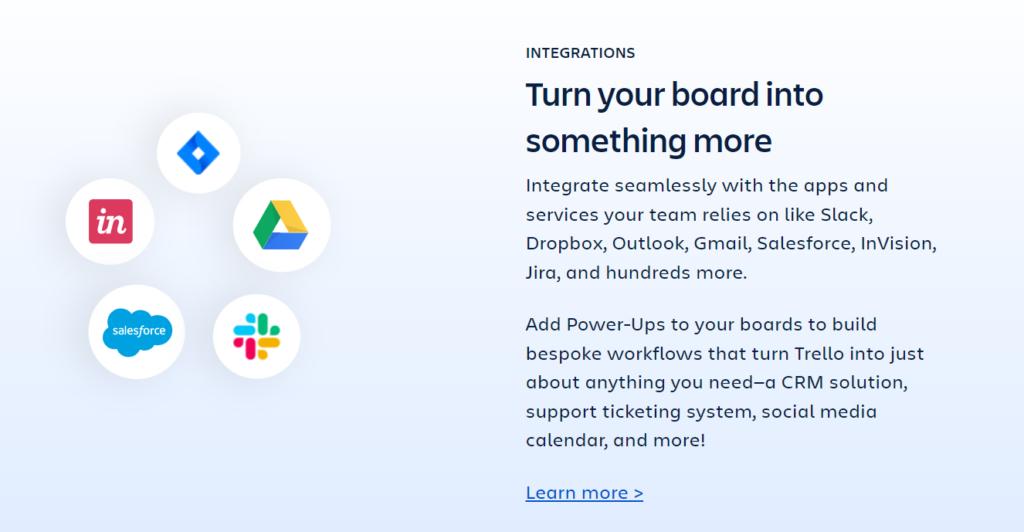 ClickUp vs. Asana vs. Trello: Availability
ClickUp
ClickUp is available for desktops with Windows, Mac, and Linux operating systems. It also has a user-friendly mobile app for both IOS and Android smartphones.
Asana
You can install the desktop version of the Asana application on Windows and Mac computers, but there is no Linux support. If it is more convenient to use Asana tools by your phone, then you will find a mobile app available for both Android and Apple users.
Trello
Trello software is available for use in Android and iOS mobile apps. As for the desktop version, the bad news for Linux users is that Trello is adapted only to Windows and Mac.
ClickUp vs. Asana vs. Trello: Support
Click Up
ClickUp wins over everyone in the industry with its 24/7 world-class support. These guys are always open to your problems and questions, regardless of holidays and your time zone. On the page of the resource center, customers are invited to watch demo videos with tutorials on the main tools of ClickUp. Here you will also find all the necessary documentation, open feedback form, and a chat for communicating with support agents.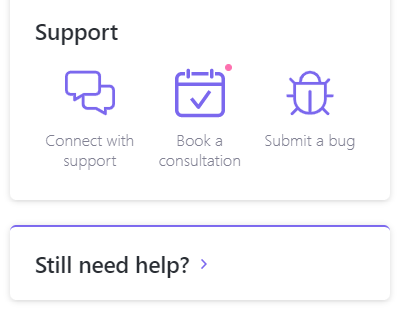 Asana
Among the additional support that you will receive when you start using Asana, there are many interesting resources. For example, detailed guides for teams and developers, a forum for sharing experiences with colleagues, and a database with fascinating cases of using the service. For beginners, Asana Academy offers many webinars and pieces of training. Don't forget about the Asana Support section, which contains answers to the most popular questions and the opportunity to contact support agents.

Trello
Trello has some Getting Started interactive training materials. On the support page, you will find many articles on various topics, a block with frequently asked questions, and a search bar for a personal question. Of course, the service has a chat to solve any of your problems, but most users were not satisfied with the level of support provided.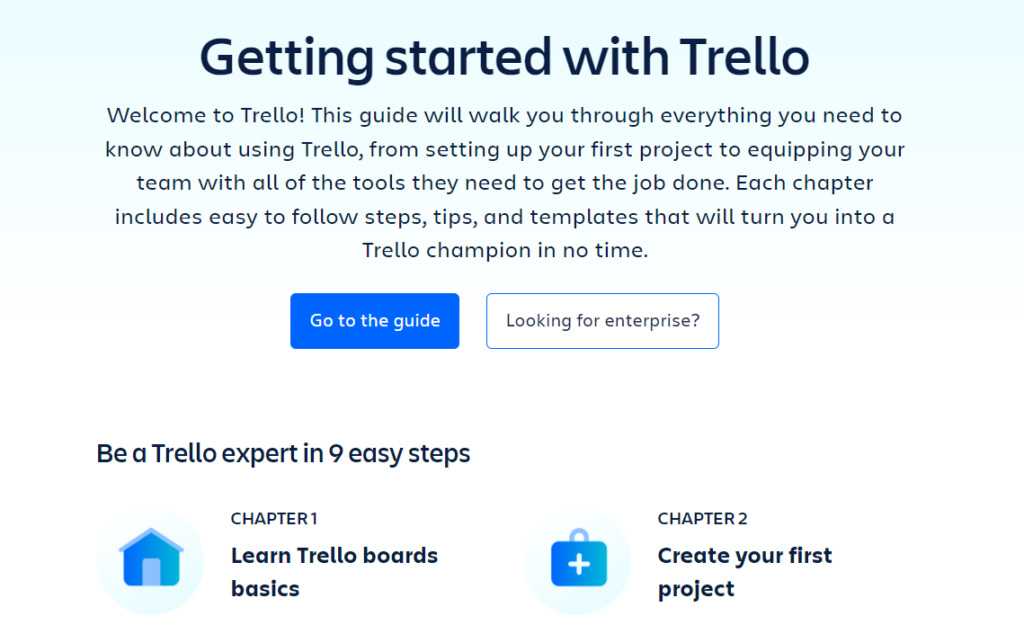 ClickUp vs. Asana vs. Trello: Experience
Our team is currently using ClickUp for collaboration inside the projects and managing all the tasks. We've collected some feedback from representatives of different departments regarding their emotions from using ClickUp, Asana, and Trello. We also searched for comments from other users.
ClickUp
Copywriter:
"For small teams, it may seem overkill at first. However, everything is very convenient. The coolest thing to my taste is viewing tasks in different formats (whiteboard, list, calendar, Gantt, etc.) and with varying degrees of generalization (you can see tasks from only one list as well as all tasks from all spaces at the same time). The amount of functionality is adjustable. In general, everything is very easy to configure. Among three options, ClickUp, Asana, and Trello, I put ClickUp in the first place."
Designer:
"ClickUp has a lot of functionality (time tracker, convenient project lists, goals and goal tracker, dark/light themes, etc.), but not excessively large – for small teams like ours, it fits perfectly. It is convenient that you can view all your tasks at a time. Logos can be added to the lists of projects, it is much easier to navigate. At first, you need to spend a little time to get used to it."
Developer:
"This is a really powerful tool. It was even difficult to understand where to click at the beginning. For simple use, it was generally clear, but there were a lot of buttons around, and I was curious about their functions. I think it's all a matter of time to figure out and get used to such extensive functionality."
CEO:
"I like notifications and the presence of desktop and mobile convenient applications – I can keep up to date with all projects. At the same time, a super flexible dashboard with widgets, the possibility of creating several levels of nesting in projects (a group of projects, a project, a task, a subtask, and so on endlessly). To conclude, it suits us perfectly for web projects and teamwork."
Other user's reviews:
Asana
Copywriter:
"From the very beginning, it seemed to be too individually oriented, but for teamwork it was nice. I like multiple ways to display tasks (whiteboard, list, calendar, etc.). Purely subjectively, it was pleasant for me to use Asana – a convenient tool with a clearly understandable interface. Having a mobile app is important to me, and Asana mobile application seemed more convenient than the main one. Have to mention though that I experienced difficulties with drag & drop – there is no way to swap tasks from the same date by dragging."
Designer:
"The functionality is similar to ClickUp, but not as diverse: there is no time tracker, which is very important to me. There is also no way to view all your tasks on one list. I have a feeling that, when creating ClickUp, they just took Asana as the main reference. For myself, I noticed that Asana works smoother because ClickUp freezes sometimes when adding tasks (probably because it is newer, and this is one of the bugs that will be fixed soon)."
Developer:
"At first, it was unusual for me that there was no language change option (then they added several new language configurations). I also worked only with the web version, it turned out to be inconvenient. You can normally work only in the app, but it does not exist for Linux. I like the interface because it is more minimalistic than in Trello and other apps, but, at the same time, there are more useful functions."
CEO:
"When working with Asana, I lacked clarity. Their UI does not suit me – I constantly have to look for something somewhere, it is difficult to be aware of all events inside all projects, etc.
The free version is very limited in flexibility, so we used the paid plan, which was very expensive. That's why we refused after testing it for a year.
Other user's reviews:
Trello
Copywriter:
"In Trello, you can only see one project at a time. Therefore, if a project has connections to other projects in your space (and it usually does), you'll have to use your imagination to see them as a whole and constantly switch between them. Actually, this is a disadvantage of the board view of any app (basic plan provides only this). I don't like their sidebar, the navigation is somewhat cumbersome. It is fine to work within the framework of one project in Trello. So, I would say that this app may be relevant for smaller teams that have few projects."
Designer:
"I don't really like it, to be honest. While using it, I was constantly confused in the boards of different projects. Weird sorting, little functionality available, slightly outdated design. I think it is suitable for some very small teams of 2-4 people. But Trello is convenient to use in working with clients: it is very easy to understand due to how little it has. I also know a UX researcher who uses Trello to track interviews conducted with users. He creates a card, calls it the username, and throws quotes inside."
Developer:
"The main disadvantage of working in Trello is the limited workspace – there are only boards and cards in it. For small projects and if there are few of them, this can be enough. Trello has no Linux support, that's why I always missed all kinds of notifications and had to go through all the boards to see the changes or check the mail."
CEO:
"An excellent task manager for small sprints or micro-projects lasting up to 1 month or less. Inconvenient navigation between projects and workspaces, insufficiently flexible interface – lack of subtasks, and flexible dashboard (this is all about the free version, we have not tested paid plans).
Conclusion – it is not very suitable for our projects, because they are longer and larger + include many subtasks and individual sprints."
Other user's reviews:
ClickUp vs. Asana vs. Trello: Comparison Table
ClickUp
Asana
Trello
Free Version
Yes
Yes
Yes
Basic Plan
$5 per month
$13.49 per month
$6 per month
Optimal Team Size
Middle team
Big team
Small team
Goals
Yes
Yes
Yes
Dashboards
Yes
Yes
Yes
Chat
Yes
Yes
Yes
Simplicity of Onboarding
Challenging
Normal
Easy
Reports
Yes
Yes
Yes
Project Views
Advanced
Basic
Advanced
Prioritizing
Yes
Custom
No
Feedback
Yes
Yes
Yes
Setup process
Challenging
Normal
Normal
Collaboration Tools
Yes
Yes
Yes
Timeline
Yes
Yes
Yes
Support
Fully 24/7
Phone Support
Scheduled
No Phone Support
Scheduled
No Phone Support
Availability
Windows, Mac, Linux
Mobile app for IOS and Android
Windows, Mac Mobile app for IOS and Android
Windows, Mac
Mobile app for IOS and Android
Integrations
100+
200+
Big library of Power-Ups
Expert's choice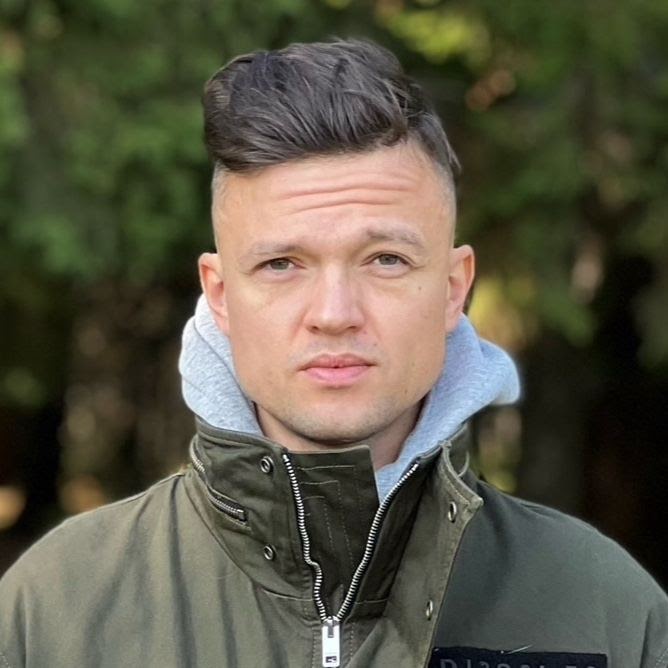 "We've been using Asana for all our projects in Code Supply Co. Integration with Everhour has been working great for us. Unlike others, Asana seems to get frequent updates and supports a lot of integration options."
Sergey Sedykh, CEO at Code Supply Co.
Other players in the market
Jira
This app is called the #1 software development tool used by agile teams. Jira has useful functions, but they are not enough for full-fledged teamwork. Compared to the tools described above, Jira does not have content and contact management tools, brainstorming, video conferencing, and other equally important features. In addition, users often notice Jira's slowness and freezes.

Monday.com
Great project management and collaboration tool for a team of any size. It offers interesting features from dashboards to mailing automation. Monday.com has excellent round-the-clock support and a lot of integrations. Among the disadvantages, we see a lack of many functions for a successful work structure, and the desktop application does not have Linux support.

ClickUp vs. Asana vs. Trello: Conclusion
In the battle for user recognition between ClickUp, Asana, and Trello, there is no clear winner. We've analyzed our professional experience after using these three apps and compared them according to several criteria, from technical characteristics to user reviews. In Belov Digital Agency, we experientially identified ClickUp as our favorite project management and collaboration tool. We've tested different team productivity instruments: ClickUp, Asana, and Trello. ClickUp is the one that we still use these days, and we are very happy about it. In fact, trying several options and figuring out which one best suits our requirements was the only right decision. While we are enjoying using ClickUp, we advise you to try all possible team productivity services and choose the most suitable option for your unique team.
If you are interested in this post, then you are looking for advanced ways to improve the efficiency of your work. Here's an idea: Figma2WP. If you want to learn an additional way to increase productivity, pay attention to the Figma2WP project. Our specialists will solve all the problems related to the design-to-development handoff for you, while you are engaged in other important tasks. Read our post about how difficult this process can be and what a relief it is to entrust to professionals.
_____________________________________________________________________________________________________________
Picture credits:
ClickUp: ClickUp website
Asana: Asana website
Trello: Trello website
Jira: Jira website
Monday.com: Monday.com website